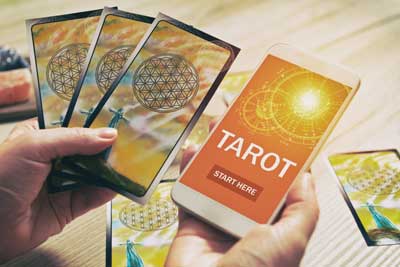 Tarot is made up of seventy-eight cards. Each having their own symbolism, imagery and thematic.
Each individual tarot card contains the image used by the psychic reader to interpret with their own skills to guide you.
You might be wondering how tarot cards can assist you with your daily life, and the answer is straightforward. They're a well-known divination tool that will help in letting you understand what's happening in the world around you. In life, you'll face a dilemma or decisions, and you're not sure of which direction to go in. Tarot cards can help you make the right choices and, in most cases, let you know what you will experience after you have made your decision.
Numerous people also take Tarot readings to discover better ways to improve their lives and ways to assist others.  It is typically a relaxing and healing type of reading and can help you get to know yourself more deeply.
What do I need to do to prepare before my reading?
Sit in a comfy spot, making sure that you're alone during the appointment. This will help you connect to the energy used by the reader. It's best to relax as much as you can.
How are readings performed?
Although I do use the Tarot, it's by no means the only divinity I utilize in my readings. The cards communicate with me through their images or symbols. Sometimes, linked cards can connect to create a different situation that I could observe for you or in your surroundings. I consult alongside my guides, who can send me messages. I also make use of a mixture of channelling, mediumship, numerology, spiritual counselling when I read for clients. I detect certain energies, vibrations, or aura's while speaking to the client.
Every reading is different. I'm never sure of how it's going to unfold and what or who is going to be revealed until I'm working with clients.